Conference Date & Time


April 17, 2019




9:30 am - 12:30 pm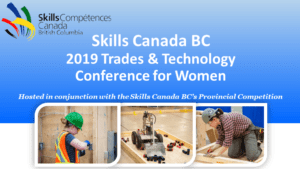 Check-in starts at 9:00 AM. Please arrive no later than 9:15 AM.
Registration is limited to the first 100 eligible students. School districts can register up to 15 students and additional students can be added to the waitlist by contacting michelle@skillscanada.bc.ca.
If registration is not full as of April 1, students from the waitlist will be contacted and can be registered.
Successful applicants will be notified with a confirmation by email and will be sent a release form which must be completed and returned by April 4, 2019 in order to attend.
If you are on the waiting list, we will notify you and advise you if additional spots become available at a later date.
Address:
1190 Cornell St
,
Abbotsford
,
British Columbia
,
Canada
,
BC V2T 6H5