InSPIRE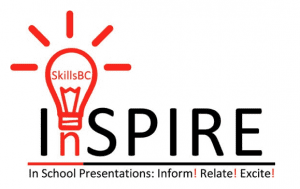 The InSPIRE program is a unique in-school presentation that provides teachers and students from grades 6 – 12 with a new perspective on skilled trades and technology careers through engaging and thought-provoking activities. Presentations not only link classroom subjects and students' passions with skilled trade and technology careers, they also provide useful resources to help with further exploration of career options.
During the presentations students participate in hands-on activities and watch and listen to apprentices, other students and/or or industry professionals in a series of industry produced and 'inspiring'  videos. In 2015/16 over 15,000 BC students will participate in this highly informative program.
"We are proud to support Skills Canada BC, and through its programs, we have been encouraging our youth to explore the many opportunities that trades training can bring to their futures. The development of a skilled workforce today is essential to keeping our youth employed and in the future success of the LNG industry in British Columbia. Trades are where the jobs are! Congratulations to everyone celebrating achievements through Skills Canada BC." Susannah Pierce, external affairs director, LNG Canada.

Back To Top