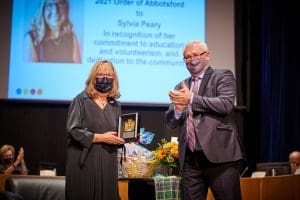 Congratulations to Sylvia Peary, Volunteer Coordinator for the Skills Canada BC Provincial Competition for being the recipient of the Order of Abbotsford for 2021!
Sylvia Peary has played a key role in helping Skills Canada BC host its live Provincial competition at the Tradex, in Abbotsford, for almost two decades.
It is the contribution of volunteers such as Sylvia Peary that enables Skills Canada BC's to continue the mission of being the catalyst that creates and fosters connections within communities and introduces trades, technology and career opportunities to youth.
Thanks you Sylvia!
Sincerely,
The Skills Canada BC Team